Materials
We use high-quality materials
Our domains are materials for surface area structures and heavy frames. Find out more about materials that we use the most.
CROSS LAMINATED TIMBER
CLT
CLT = cross laminated timber are elements from massive timber composed of cross-laminated layers (usually from 3 – 7 layers). Constructions from CLT are naturally diffusion-open, therefore the interior humidity can be regulated. Material is suitable for family houses, low-rise and high-rise buildings. It can be used for wall, floor and roof constructions. This material is most effective for high-rise buildings from timber with regards to requirements of building fire safety solutions. It is possible to combine with laminated lamellas timber such as joists, beams, lintels or material for subflooring.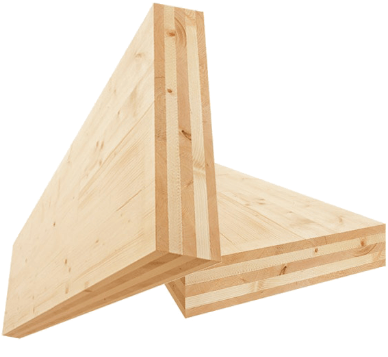 WALL, FLOOR AND ROOF ELEMENTS
NOVATOP MATERIALS
Material from the Czech producer NOVATOP stands out at the first sight by its high visual quality of all delivered products from massive timber used for all types of constructions. The producer offers wall, floor and roof elements under business specification as Solid, Element, Open and Static. The scale of use is similar to classical CLT. It's suitable wherever the emphasis is placed on its high aesthetic quality.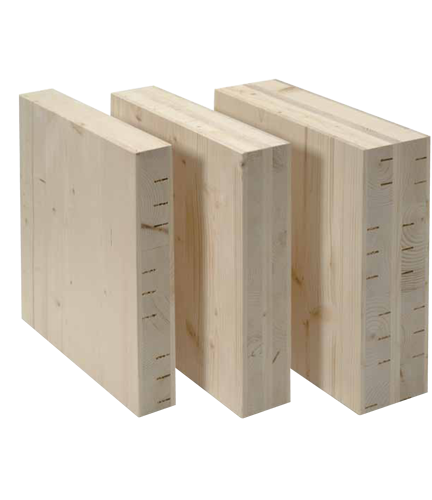 Laminated Lamellas Timber
BSH (LLT)
BSH = Laminated Lamellas Timber is produced from two or more dried lamellas from massive timber. The lamellas are laminated to each other on the wider sides. The thickness of lamellas is given by the type (class) of environment, where the construction will be placed. It is produced in various strengths, in visible or non-visible quality. BSH is mainly produced from spruce, and can be produced from larch too. Material is suitable for large spans of halls, sport buildings. BSH can be used as a supplementary element in combination with CLT. It is also suitable as a member for atypical timber constructions.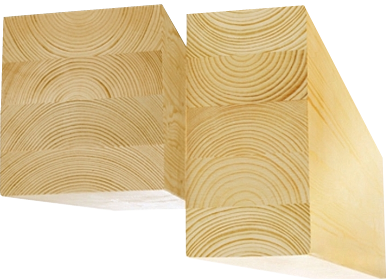 3-layer laminated solid wood panel
SWP
SWP = Solid Wood Panel is modern and ecological material available in various timber species. The top layers are in various qualities. They are composed from continued lamellas glued on sides within the panel's width. The middle layer is from but-jointed lamellas. The SWPs are available in different thicknesses. The high quality surface, without finger-joints on the top layers is suitable for all ambitious interior designs.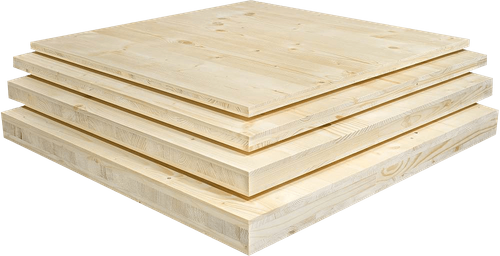 Laminated Veneer Lumber
LVL
LVL = Laminated Veneer Lumber is composed of glued multi-layers from pine and spruce veneer. Each layer is 3 mm thick. Potential timber faults are rejected and therefore a material of homogenous section is produced. Characteristic features of such material are unusually high strength and deformation resistance to warping and shrinkage cracks caused by drying. Structural requirements are met even by small cross sectional dimensions. LVL is also light-weight. Together with timber design LVL makes a perfect combination for all industrial premises or buildings for sport purposes. LVL is also suitable for reinforcing areas with high concentration of stress.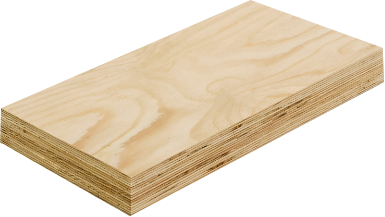 Acoustic PANEL
NOVATOP ACOUSTIC
To express the beauty of timber in interiors with acoustic requirements, we supply – in various timber species and in various surface designs – Acoustic panels made by NOVATOP. These panels can be mounted on a timber grid or applied directly on the CLT. Acoustic panels can have on the back side – applied directly in production – additional material for sound absorption. The acoustic panels are suitable for use in sport halls, schools, offices, meeting rooms, conference halls and sacral buildings.